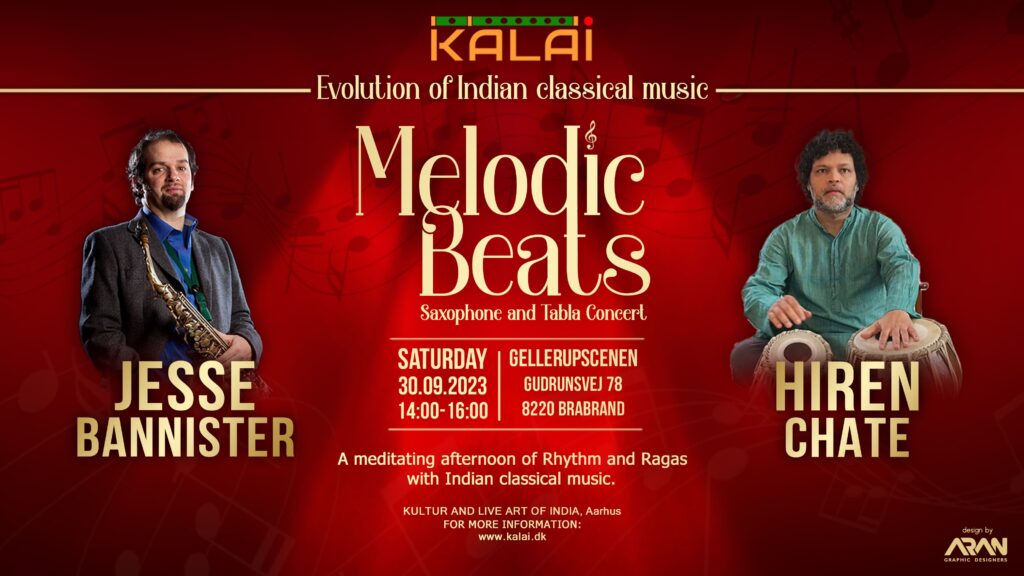 KALAI is proud to announce that "Jesse Bannister", a world renowned Indian classical saxophonist from UK (United Kingdom) with the very eminent tabla player "Hiren Chate" will be coming to Aarhus in the coming month of September 2023.
This duo would take you all on a musical journey filled with some soul stirring melodies of Hindustani classical music showcasing the depth and beauty of Indian musical traditions.The distinctive mood and atmosphere set by the melodic ragas played from the Saxophone will be accompanied by the taal from the tabla. The concert will take you through flights of ecstasy, meditative passages and excitement. The Jugalbandi between Saxophone and Tabla will be a special treat to the music lovers.
Read more about artists…
Jesse Bannister – Saxophone
Jesse Bannister is an internationally acclaimed Indian classical saxophonist and celebrated composer, renowned for his compelling and innovative performances. As a composer, he has worked with prestigious orchestras such as the Hallé Orchestra, Royal Liverpool Philharmonic Orchestra and the City of London Sinfonia.
Bannister's mastery of the art form is a result of his intensive training under the guidance of British sitar maestro Dharambir Singh, as well as vocal legends Pandits Rajan & Sajan Mishra. With an impressive career spanning over two decades, Bannister has performed on stages across Asia, Europe, and the US, captivating audiences with his dynamic and soulful performances.
Bannister has dedicated himself to sharing the beauty of Indian raag music with Western musicians. His passion for the art form led him to start teaching at the Leeds Conservatoire. Pandit Jasraj once described him as 'the future of Indian classical music'.
For more info
https://www.darbar.org/artist/jesse-bannister
…show less
Hiren Chate – Tabla
About Event:
Concert Date: Saturday, Sept. 30, 2023 from 14:00 to 16:00
Venue: Gellerupscenen, Gudrunsvej 78, 8220 Brabrand. Google map link: https://goo.gl/maps/zEXsxGV984neoWES6
Total seats: 160.
Audience: Concert is targeted to adults only. However, kids can come along with adults if he/she can keep silent. Seat booking (Ticket) is required for kids as well.
Ticket prices :
Premium seats price (seats close to the stage): 175 Kr. (Limited seats)
Regular seats (rest of the seats) : 140 Kr.
Current offers are as follows:
Student price (Regular seats):: 70 Kr. (Only for College & University students. Need to present valid Student ID)
Group discount 20%: Buy 5 tickets at the cost of 4. Price: Regular seats: 560 Kr. , Premium seats: 700 Kr.
KALAI members: 20% discount to members only. Any guest / kid of KALAI members is not eligible for this offer.
Payment mode: Please pay online for registration while making your booking.
Parking: Private (City Vest) & Kommune free parking available around the venue Gellerupscenen.
Outside food/drink: It is strictly prohibited to bring any food/drink from outside into the Concert hall.
Alcohol: Consumption of alcohol in/around the venue area is strictly prohibited.
Please note:
Possibility to upgrade regular seats to premium seats – by paying the difference : depends on premium seats availability
The venue is not suitable for kids who need to play.
Tickets are non-refundable
Registration:
Request ticket(s) by registering here. Reservation will be confirmed once the payment is done.