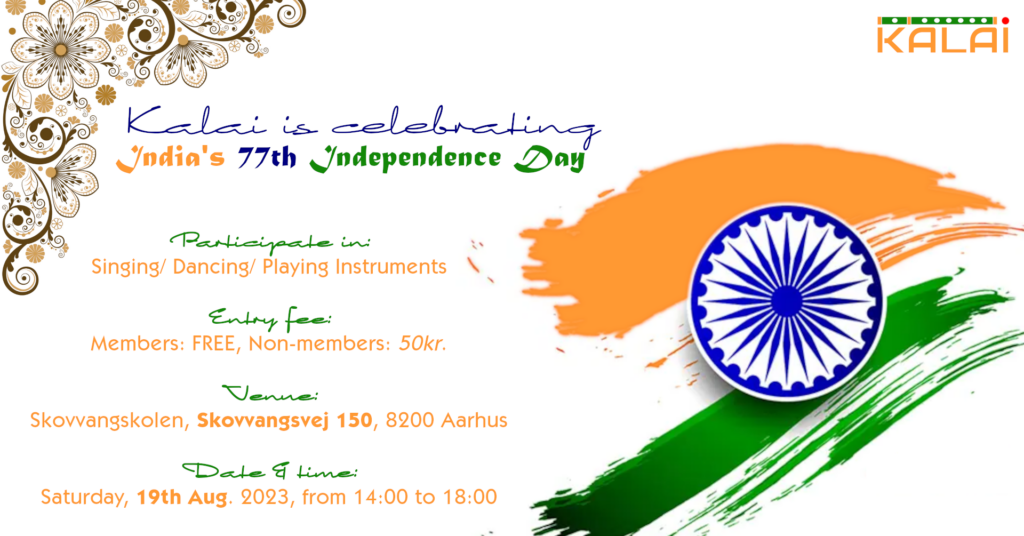 CELEBRATING INDIA'S 77TH INDEPENDENCE DAY
Freedom in the mind,
Faith in the words,
Pride in our souls, 
Let's come together to salute the Nation on this Independence Day!
KALAI would like to invite all members and non members (with a fee of 50kr.) to celebrate India's unity and spirit of patriotism along with an opportunity to express ourselves.
Following are planned activities:
Solo, duet or group Singing/Dancing/Playing instruments on patriotic songs.
Ethnic dress for both kids and adults portraying a freedom fighter.
Skits or short plays.
Poetry related to the theme.
Program Date : 19th August 2023 from 14:00 to 20:00
Location: Skovvangskolen, Skovvangsvej 150, 8200 Aarhus
This event is for KALAI members however you have a possibility to invite your guests. Entry for members is free. There is a fee of 50 Kr. for guests. Kids below 18 years are free however they can come to the event only with an adult.
Please register latest by 13th August 2023.
If you are not a KALAI member yet, you have an opportunity to perform in the event by sending their entries to events@kalai.dk. Last date for sending entries is 25th July. We have limited numbers of performance slots.
Hurry up! Please share and pass the event details to your friends so that we all can celebrate India's Independence day together.
For any queries, please write to us on events@kalai.dk or Whatsapp on +45-50119200.
Looking forward to seeing you all on 19th August 2023.
All members and non-members need to register using the form below.
---
Please register yourself, kids and your adult guests.
Registration is closed. Entry without pre-booking is restricted.