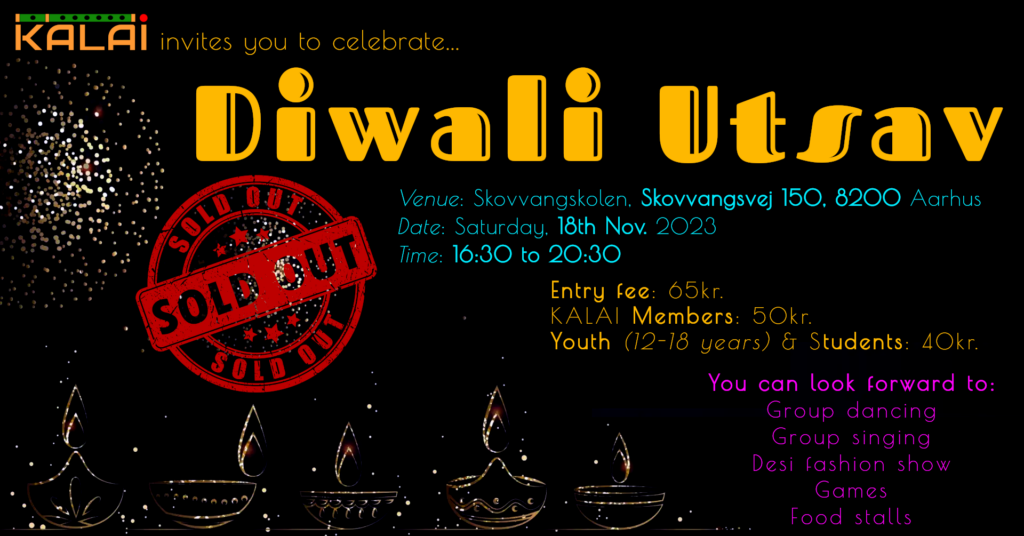 🪔✨Diwali Utsav 2023✨🪔
KALAI is thrilled to announce "Diwali Utsav" (Festival of Lights) for the very first time! KALAI invites you all to come together to celebrate Diwali with joy, laughter, and warmth. It's the perfect time to cherish the company of friends, indulge in delicious Indian cuisine, and light up our lives with the glow of diyas.🪔
The event promises:
👩‍🎤 Cultural performances🕺
💃 Desi fashion show 💃
🤤Mouthwatering food stalls😋
🎯Games🎯
To add an extra layer of vibrancy and cultural richness to our Diwali Utsav, we invite you to come dressed in your most exquisite traditional attire. Whether it's a stunning saree, a dapper kurta, or any other beautiful Indian outfit, this is your chance to showcase your style and be part of our Desi Fashion Show!🤩
If you are also interested in performing Group dance or Group song, or any other exciting group performance, please send your entries to events@kalai.dk latest by 6th November 2023. Please include a brief description of the performance, number of performers, their names and the duration.
Venue: Skovvangskolen, Skovvangsvej 150, 8200 Aarhus N.
Date/Time: Saturday 18th Nov 2023 from 16:30 till 20:30
Entry Fee: (Note that Entry fee is non-refundable)
65 Kr. for Non KALAI members,
50 Kr. for KALAI members (Non-transferable),
40 Kr. for Youth (12-18 years)
40 Kr. for Students against valid student Identity card.
Free entry for children up to 12 years old.
Payment mode: Online payment through credit/debit/Dankort/MobilePay/ApplePay/GooglePay while making your booking. MobilePay will be used for stall payments. Other payment options like Credit/Debit Card or Cash payment are available for the food coupons (Only when you do not have Mobilepay).
Food stalls: Food can be purchased from the food stalls at the venue. If you are interested in keeping your food stall then please contact us on email events@kalai.dk or Whatsapp/SMS on +45-50119200.
Parking: Standard (Private & Kommune) paid/free parking available around the venue.
Outside food/drink: It is strictly prohibited to bring any food/drink from outside.
Alcohol: Consumption of alcohol in/around the venue area is strictly prohibited.
Let's shine together in our traditional best and make this Diwali Utsav a true celebration of Indian culture and fashion! ⭐
Looking forward to seeing you all decked up in your splendid attire.
---
Registration
Registration is closed. We are fully booked. On-The-Spot Entry is also not possible due to limited capacity of the venue.
Kindly do not come to the venue without pre-booking. We will not be able to accept more entries and your entry might be denied.
Thanks for your co-operation.
Regards,
KALAI