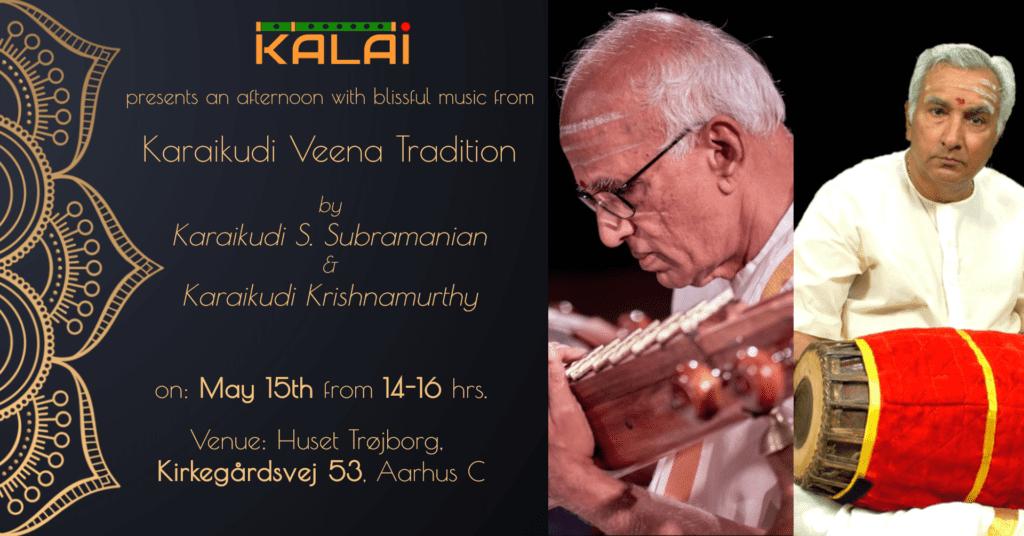 KALAI is proud to present acclaimed Indian musicians Karaikudi S. Subramanian on Veena and his disciple Mathuriga & Thenuga on Veena accompanied by Karaikudi Krishnamurthi on Mridangam .
Karaikudi Sambasiva Iyer Subramanian is a 9th generation Veena player in the illustrious Karaikudi Tradition. Karaikudi Subramanian started learning Veena from his mother Shrimati Lakshmi Ammal from his early childhood days. Shri Karaikudi Subramanian is a Top-Grade artist of All India Radio and has performed in Europe , North America , Canada . He and his sister Rajeswari Padmanabhan won the German Record Critics record in 1980 for their album "Music for Vina , South India".
You can read more about the musician here: https://en.wikipedia.org/wiki/Karaikudi_S._Subramanian
Karaikudi R Krishnamurthy is the 9th generation Mridangam artiste in South India's illustrious family of musicians. He started learning Mridangam at the age of 4 from the Mridangam he received as a gift from his grandfather. He has accompanied highly acclaimed maestros and has also played for dance performances. Shri Karaikudi R. Krishnamurthy received the Sangeet Natak Akademi Award for his contribution to dance music as a Mridangam artist in 2012.
Concert Date: Sunday, May 15, 2022 from 14:00 to 16:00
Venue: Huset Trøjborg, Kirkegårdsvej 53, 8000 Aarhus
Total seats: 150.
Ticket prices are as follows:
Premium seats price (seats close to the stage): 125 Kr.
Regular seats (rest of the seats) : 100 Kr.
Current offers are as follows:
Student price (only on regular seats): 75 Kr.
Group discount (Premium seats): Buy 5 tickets at the cost of 4. Price: 500 Kr.
Group discount (Regular seats): Buy 5 tickets at the cost of 4. Price: 400 Kr.
KALAI members 20% discount on Premium & Regular seats.
Please note:
Possibility to upgrade regular seats to premium seats – by paying the difference : depends on premium seats availability
The venue is not suitable for kids who needs to play.
Tickets are non-refundable
Request ticket(s) by registering here. Reservation will be confirmed once the payment is done.