The festival of harvest.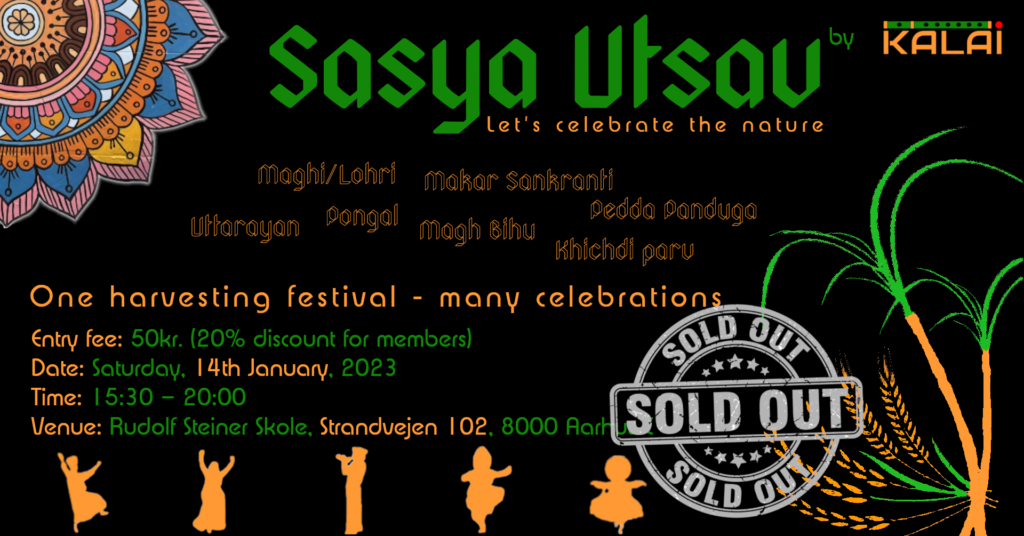 For the first time KALAI is coming up with an exciting event for celebrating Lohri and Sankranti in Aarhus. KALAI takes immense pleasure in inviting you all to celebrate "Sasya Utsav 2023: The festival of harvest".
This harvest festival is widely known in India as Makar Sankranti and is celebrated with different names in different states. In Punjab and Haryana it is called Maghi and is observed the next day after Lohri , Assam : Bihu , Tamilnadu: Pongal , Gujarat: Uttarayan, Uttar Pradesh and Bihar: Khichdi Sankranti, Andhra Pradesh: Pedda Panduga and likewise celebrated in many other states with many beautiful names.
Main attraction of the event is Lohri and bonfire celebration followed by cultural performances representing our beautiful and diverse Indian states. We have also arranged food stalls representing Indian states and they would sell Sankranti special food.
Venue: Salen, Rudolf Steiner Skole, Strandvejen 102, 8000 Aarhus C.
Date/Time: Saturday 14th Jan 2023 from 15:30 till 20:00
Entry Fee: 50 Kr. (20% discount for KALAI members). Children below 12 years old have free entry. Note that Entry fee is non-refundable.
Venue Capacity: Can accommodate up to 250 people.
Payment mode: Mobilepay, Credit/Debit Card or Cash payment available at the venue. Please pay for registration while making your booking.
Food stalls: Food can be purchased from the food stalls at the venue. If you are interested in keeping your food stall then please contact us on email events@kalai.dk or Whatsapp/SMS on +45-50119200.
Parking: School has a good amount of free parking. You can also park in a residential area near by school.
Outside food/drink: It is strictly prohibited to bring any food/drink from outside.
Alcohol: Consumption of alcohol in/around the venue area is strictly prohibited.
---
Registration
Please register here to avoid last minute rush. You can also come directly to the venue as well however entry might be denied based on place availability.
We are sold out completelly. Please do not come to the venue if you don't have prebooking.