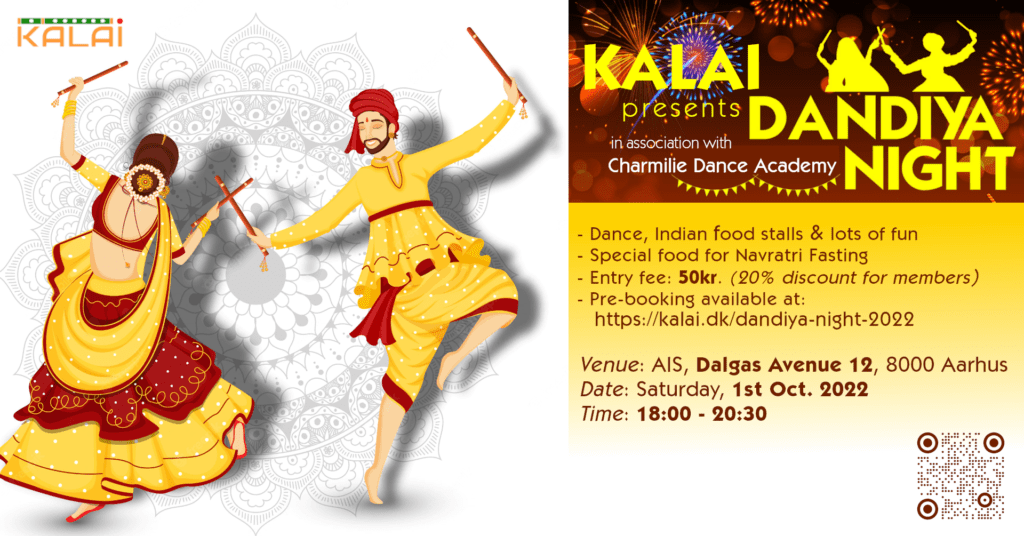 KALAI welcomes you all to "Dandiya Night 2022".
Let's Dance, have Fun , enjoy Food and celebrate Navratri.
Dandiya is a traditional folk dance performed during the nine days long festival called Navratri (Nine nights). Dandiya is usually performed in a group with decorated wooden sticks, which are used as props.
If you have no experience with Dandiya dance, don't worry we will be having a workshop for all of you. All you need to bring is charm to dance and a big appetite.
There will be food stalls with a variety of Indian foods.
We have special arrangements for the people who are having Navratri Fasting. Please select the checkbox in the form below if you are interested in a special food box.
Venue: Aarhus International School, Dalgas Avenue 12, 8000 Aarhus C
Date/Time: Saturday 1st Oct 2022 from 18:00 till 20:30
Entry Fee: 50 Kr. for Non KALAI members and 40 Kr. (20% discount) for KALAI members. Children below 12 years old have free entry. Note that Entry fee is non-refundable.
Payment mode: Mobilepay, Credit/Debit Card or Cash payment available at venue. Please pay for registration while making your booking.
Food stalls: Food can be purchased from the food stalls at the venue. If you are interested in keeping your food stall then please contact us on email events@kalai.dk or Whatsapp/SMS on +45-50119200.
Dandia sticks: We have limited numbers of Dandia sticks available at the venue. If you have one then please bring along with you.
Parking: Standard (Private & Kommune) paid/free parking available around the venue.
Outside food/drink: It is strictly prohibited to bring any food/drink from outside.
Alcohol: Consumption of alcohol in/around the venue area is strictly prohibited.
---
Registration
Please register here to avoid last minute rush. You can also come directly to the venue as well however entry might be denied based on seats availability.
Online registration is closed now.
Please reach to the venue "Aarhus Internation School, Dalgas Ave 12, 8000 Aarhus" for the event. Entry will start from 5:30PM.